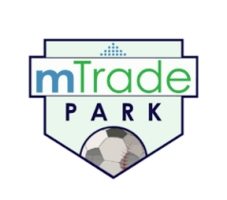 Messages
Still waiting! Almost game time
Ok.... my plan is to start at 5:30. We will play 15 minute games with no half time on 20 minute time slots. I'm attaching a picture of the new schedule but you can come to tourn headquarters if you have questions.

Jennifer
MTrade Park on Facebook for updates
You can follow MTrade Park on Facebook to find out when they will give us the all clear to proceed with the tournament. I can't start until they tell me it's ok. I will adjust the schedule after we get the all clear. Sorry for the inconvenience but I plan to go on with the tournament as soon as possible.

Jennifer
7/9/2022 4:10 PM
We figured it was coming…. Rain delay
Hey guys!

Not sure how long the delay will be but I will keep everyone posted through email.
Thanks for being patient.

Jennifer
7/9/2022 3:56 PM
Tournament Is Still On!!
Hey guys!!

I'm getting lots of messages about the thunderstorm that is predicted to be in Oxford around 3:00. We are still going with our schedule that I posted. With that being said, MTrade park has a lightning detecting system that will alert us if we need to suspend play for a period of time. If that happens I will email everyone details about anything that will need to be changed. Let's just hope it goes around us and we don't have to worry about it at all!! I mean, we do live in the south so anything is possible with the weather!! Ha :)

Jennifer
7/9/2022 12:42 PM
Last minute details!
Hey guys!
Schedules are final! There were no changes that needed to be made to the preliminary schedules that I sent out.

Here are a few important links for your upcoming tournament

www.3v3live.com/waiver
Waiver Form - please print out and bring to check-in (only one waiver form is required per team)

www.3v3live.com/rules
Official Rules - please review

www.3v3live.com/faq
Frequently Asked Questions - answers to most questions you might have can be found here!

See you at the fields!
- Jennifer
7/8/2022 9:32 PM
Preliminary Schedules
Hey guys!

I have posted the preliminary schedules and you can view them at this link....

https://soccer.exposureevents.com/181829/3v3-live-oxford-under-the-lights/schedule

Please look over them and let me know if there are any problems that you need me to correct.

I've attached the field map so you will know where your games will be.

Please bring your completed waiver form to tournament headquaters for check-in at least 30 min prior to your first game.

Can't wait for a great afternoon/evening of soccer!!

Jennifer


Teams List
Hey There!

I'm Jennifer McGill, tournament director for the Oxford "Under the Lights" tournament this Saturday! I'm looking forward to a great day of soccer!

The teams list can be viewed now by clicking on this link...

https://soccer.exposureevents.com/181829/e/teams

If you haven't paid your registration fee please do so now. Also, if you are needing to transfer your fee from another tournament please let me know that.

Can't wait to see you!

Jennifer
7/5/2022 3:06 PM
Description
3v3 Live is open to ages 5 through adults
Tournament (3v3, 1-Day Play™)
All teams
Boys & Girls: 19U-5U
Ability: Competitive/Developmental
$225.00 entry fee
4 game guarantee
Location
mTrade Park
328 Old Sardis Road
Oxford

,
MS
,

38655
Directions
General Information
Start Time: 3pm

Registration Deadline: Registration deadline is 10 days before event. Teams registering after the deadline will be charged a $25 late fee.

Check In: Check in THIRTY MINUTES before your first game at the fields. Please bring your signed waiver form and any roster changes. Rosters will be frozen after your team has checked in and cannot be changed after that time. Teams must provide proof of age at any time during the tournament if requested by the Tournament Director. 3v3 Live will accept player cards, copies of birth certificates or driver's licenses as proof of age.

Schedules: Schedules will be posted to this location Thursday before the tournament. Special scheduling requests must be made by the registration deadline to be considered. Due to how we schedule our games at our events, cheduling requests must be limited to two! 3v3 Live will make every effort to honor scheduling requests but cannot guarantee that all requests can be met.

Tournament Facts:

All players will receive an official 3v3 Live Soccer tournament t-shirt (t-shirts not guaranteed for teams that register after the deadline)
The top 3 teams in each division will receive custom medals for each player
The top 3 teams in each division will qualify for the Regional Championship of their choice
Divisions:
Click Here for an explanation of 3v3 Live age groups


Rules
:
Click Here for a copy of 3v3 Live's rules


FAQ:
Click Here for answers to Frequently Asked Questions


Waiver:
Please complete and bring to check in on game day
Hotels
:
Click here for discounted rates on hotels near the fields
---
All event related questions should be directed to Jennifer Mcgill at jennifer@3v3live.com.