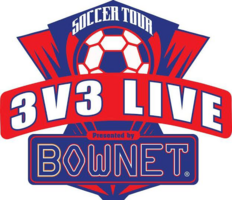 Messages
Last Day - Regional Champs
Just a quick reminder:

Today is the last day for Regional Champions to register for free entry into Nationals using the code on your Golden Ticket!

Over 150 teams already registered - with two months left for non-regional champs to register! The early team list will be published tomorrow and the Golden Ticket promo code will be turned off.

www.3v3live.com/finals
9/1/2022 9:27 AM
3v3 Schedules Posted
Dear Coaches and Teams,

The tournament schedules are now posted for the 3v3 LIVE Soccer Southwest Regionals to be held in Roswell this weekend. You may view them at https://soccer.exposureevents.com/183703/e/schedule.

Please take a look at the schedule and check to make sure that you are in the correct division and that you don't see any conflicts with your bracket. We have a great turnout for the tournament and many teams asked for schedule requests. We have met as many of these special requests as possible, and schedules are final at this time. Please bring coaching help if you have multiple teams!

Please check-in your team at the tournament headquarters tent 30-60 minutes before your first game. Check in may take longer than usual due to the large number of teams attending. Only one representative of the team need attend. Remember to bring your parent Waiver form. This form will serve as your official game day roster, and your roster will be frozen once it has been turned in to us.

Here are a few important links for the tournament

www.3v3live.com/waiver
Waiver Form - please print out and bring to check-in (only one waiver form is required per team)

www.3v3live.com/rules
Official Rules - please review

www.3v3live.com/faq
Frequently Asked Questions - answers to most questions you might have can be found here.

Thank you and if you have any further questions, please feel free to contact me.

Matthew Shappard
3v3 Live Tournament Director

Get Social with us! Tag us in your 3v3 Live Tournament pics on Facebook or Instagram with #3v3live to be entered into weekly contests.
7/28/2022 9:33 AM
Southwest Regionals
Coaches and Team Managers,

Just a couple of quick itemd for Saturday's Southwest Regionals:

UNPAID TEAMS: We have a lot of unpaid teams. Please log in and make payment for your teams on Wednesday if you have not already done so. Teams that have not paid by Thursday morning will not be scheduled!

SCHEDULES: Schedules will be available Thursday evening. Please email me any schedule requests on Wednesday. Requests received after that time will not be considered when schedules are created.

We look forward to seeing you on Saturday!

Matthew Shappard
3v3 Live Soccer Tour
7/26/2022 11:22 PM
Description
3v3 Live is open to ages 5 through adults
Tournament
All teams
Boys & Girls: 19U, 18U, 17U, 16U, 15U, 14U, 13U, 12U, 11U, 10U, 9U, 8U, 7U, 6U, 5U
Ability: Competitive/Developmental
$250.00 entry fee
4 game guarantee
Location
Cielo Grande Recreation Area
1612 W College Blvd
Roswell

,
NM
,

88201
Directions
General Information
Start Time: 3pm Saturday

Registration Deadline: Registration deadline is 10 days before event. Teams registering after the deadline will be charged a $25 late fee.

Check In: Check in THIRTY MINUTES before your first game at the fields. Please bring your signed waiver form and any roster changes. Rosters will be frozen after your team has checked in and cannot be changed after that time. Teams must provide proof of age at any time during the tournament if requested by the Tournament Director. 3v3 Live will accept player cards, copies of birth certificates or driver's licenses as proof of age.

Schedules: Schedules will be posted to this location Thursday before the tournament. Special scheduling requests must be made by the registration deadline to be considered. Due to how we schedule our games at our events, cheduling requests must be limited to two! 3v3 Live will make every effort to honor scheduling requests but cannot guarantee that all requests can be met.

Tournament Facts:

All players will receive an official 3v3 Live Soccer tournament t-shirt (t-shirts not guaranteed for teams that register after the deadline)
The top 3 teams in each division will receive custom medals for each player
The top 3 teams in each division will qualify for the Regional Championship of their choice
Divisions:
Click Here for an explanation of 3v3 Live age groups


Rules
:
Click Here for a copy of 3v3 Live's rules


FAQ:
Click Here for answers to Frequently Asked Questions


Waiver:
Please complete and bring to check in on game day
---
All event related questions should be directed to Matthew Shappard at matthew@3v3live.com.